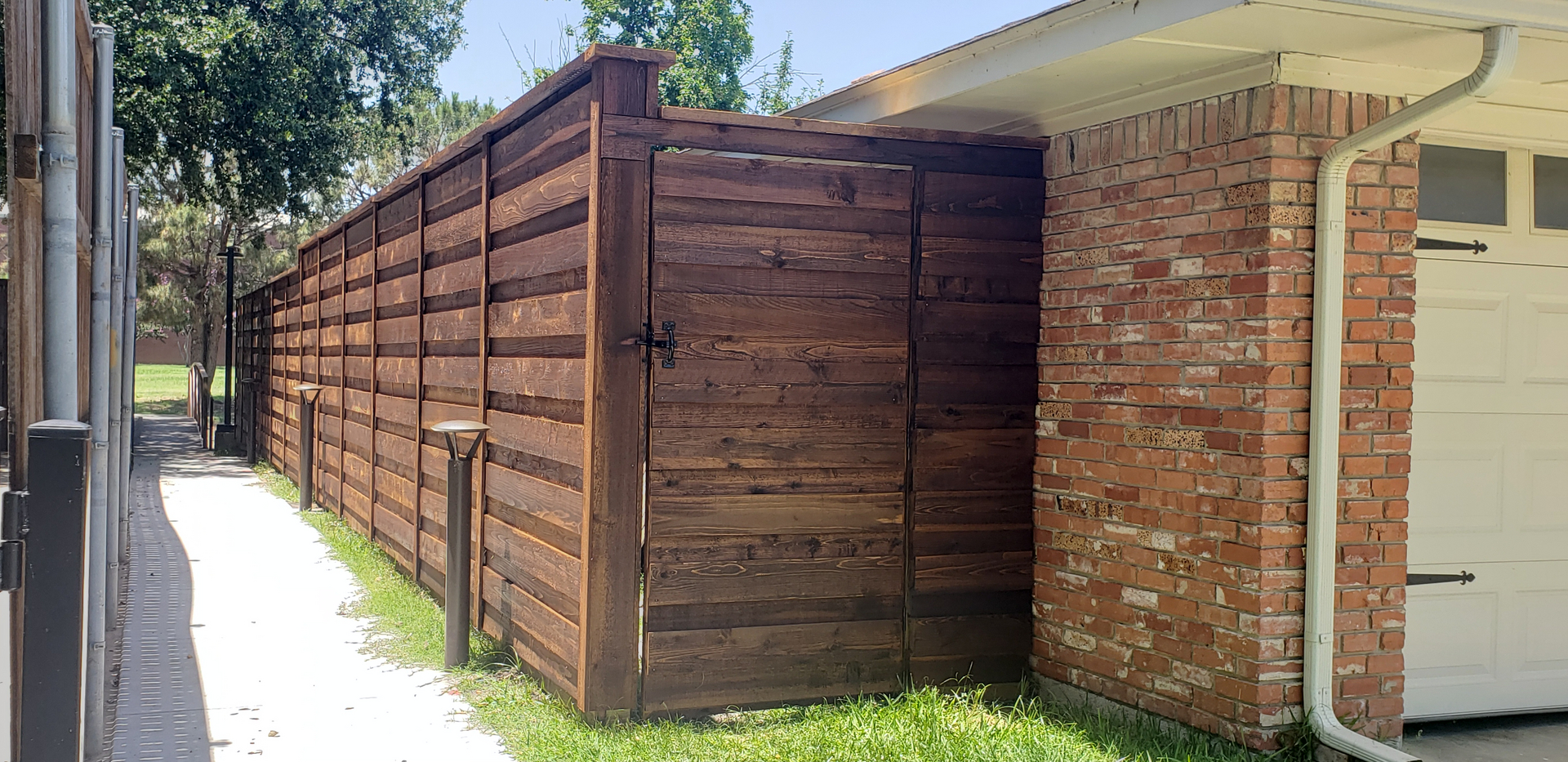 Frequently Asked
Questions About Our Services
Frequently Asked Questions
These are some of the most common questions we have been asked as we have helped our clients with their fence installation projects. 
What is the difference between a fence installation and a fence replacement project?
In our company, Fence Masters DFW, we call a "fence installation" project whenever the property currently has no fence at all. This mostly applies to new construction homes where we get hired to install a brand new fence. We consider a "fence replacement" when the property currently has an existing fence and we remove the old fence and replace it with a brand new wood fence.
Many times the terms are used interchangeably in our industry, so it's important that the client understands the terms used—some companies charge differently as well, so we recommend that you ask questions.
What is the life expectancy of a new Cedar wood fence?
The life expectancy of a brand new, Red Western Cedar wood fence depends on several factors:
In its natural state (no stain applied, no sealer applied) you can expect the fence to last you 9-11 years.
A stained fence has the potential to last you 15-17 years; yes, staining your fence prolongs the investment you have made by installing a new wood fence.
As your fence ages, we recommend having it re-stained every 4-5 years to help prolong your investment.
Is staining a fence always recommended?
Fence Masters DFW always recommends staining your newly installed wood fence. Staining your fence can easily extend the life of your fence by 5-7 years, on average. Our brand of choice is ReadySeal; which is an excellent oil-based sealer AND stain in one application—not only does staining add beauty and distinction to your new wood fence but it will add protection against the elements.
We've made a short video that you can watch explaining a bit more about the benefits of staining your fence, we recommend you watch that video.
How long will my fence replacement project last?
On average, a fence replacement project will last no more than 3 days. If you are concerned about not having a fence or about your pets for that period of time, rest assured...the only time you will be without a fence will be the very 1st day we are on the job site.
Day 1: We remove any existing fences and start digging to set the new posts. We will let those posts sit overnight to let the concrete harden.
Day 2: We start building your new fence; by the end of the second day we will have most is not all of the fence re-built.
Day 3: We will finish your fence this day by adding any decorative trimming and building any walk-thru gates. We will ALWAYS notify you if we happen to fall behind schedule; we like to keep any surprises to a minimum.
What is included in your price?
Our base prices include: demolition of any existing fences, haul off any old fences, we pull the permits (HOA permits are the responsibility of the property owner), 1 walk‑thru gate; all materials, all labor, all taxes.
What is not included in your base prices?
There are some items that are not included in our base prices and we will always provide you how much it would be to add any particular item. Items not included in the base prices are: any additional walk-thru gates; any double swing gates; adding Kickboard to the fence; adding additional decorative trim to the fence.
You can always check with us to see if a particular item you would like in your new fence is included—we'd be more than to assist you and answer your questions.
What type of fences do you guys install?
We decided to be the best at one thing—be the best WOOD fence installers in the DFW area—we only install wood fences. Unfortunately, we don't install any chain-link, metal fences, or any Vinyl fences.
Besides Cedar, what other types of wood do you guys use for the fence projects?
Our preferred choice of wood for your fence project is Red Western Cedar which will bring you the best bang for your buck. Not only does Cedar give your house a high-end look, extend the life of the fence, smell really nice, and it will set your house apart from those of your neighbors. If cost is a factor, we will also use Treated Pine wood pickets.
We will always use the best quality of materials when installing your new fence—whether that material is Cedar or Treated Pine.
What is the best brand of stain?
There are several brands and options to choose from when you are planning on having your fence stained and/or sealed.
Some of the brands we have used in the past:
Behr Stains - available thru the Home Depot
TWP (Total Wood Protection) - available thru Kelly Moore paints
Wood Defender - available thru Jamieson Fence
ReadySeal - available thru Home Depot or other home improvement stores
Our professional choice, and the brand we love and trust the most, is ReadySeal. Why? In one application, we apply a sealer and a stain with minimal cleanup, touch up, or over-runs. This is the brand we have used for the past 7 years and it's the brand we recommend on all our fence installation projects.